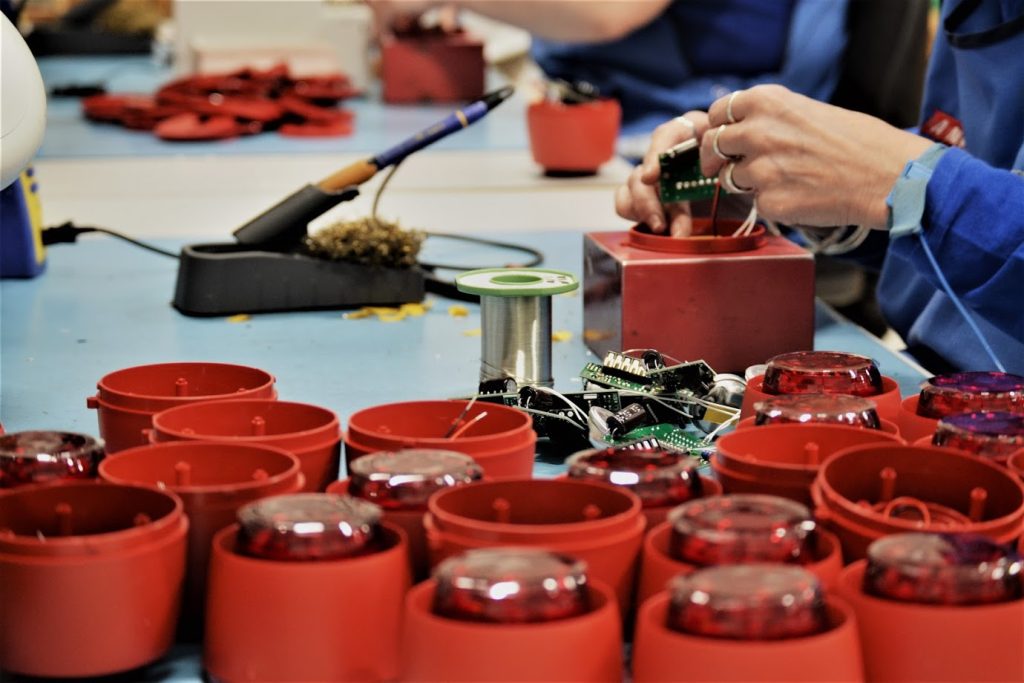 Our Journey
Since its establishment in 1993, Cranford Controls has been at the forefront of designing and manufacturing alarm devices to warn and help in safely evacuating people. With three decades of experience under our belt, Cranford Controls has emerged as a beacon of excellence in the field of Audio-Visual Devices. This reputation has been built through the unwavering dedication of our talented team and strategic collaborations with industry leaders such as Apollo.
As we celebrate our thirty-year milestone, it is essential to reflect on the remarkable progress we have made. Our journey has been marked by significant accomplishments, including obtaining ISO 9001 factory approvals and transitioning to a purpose-built facility in Alton. These milestones have not only strengthened our operational capabilities but also enhanced our ability to deliver reliable solutions to our valued customers.
The launch of our EN54-23 approved Visual Alarm Devices (VADs) marked a significant point in our journey of excellence in audio-visual alarms. This certification underscores our commitment to meeting and exceeding industry standards, ensuring the utmost reliability and safety of our products. Additionally, joining the prestigious Halma Group of companies has opened new avenues for collaboration and accelerated our growth trajectory.
Strategic Collaborations
Cranford Controls' commitment to excellence has been further strengthened through strategic collaborations with major industry players. Notably, one of these significant partnerships is with Apollo, who has chosen Cranford Controls as its preferred Audio-Visual Partner. This collaboration is a testament to the trust and recognition that Cranford Controls has earned within the industry.
As Cranford continues to solidify its position as the preferred Audio-Visual Partner for Apollo, the partnership opens exciting possibilities for future advancements in the field. By working hand in hand, these industry leaders are poised to shape the future of audio-visual devices, offering innovative solutions that set new standards for safety, reliability, and customer satisfaction.
Among our impressive range are the EN54-23-approved Visual Alarm Devices (VADs), which provide clear and effective visual alerts in emergencies. Additionally, our sounders deliver robust audible signals, adhering to the strict guidelines outlined in EN54-3. We also offer Marine Approved Sounders and Sounder beacons, specifically designed to withstand the challenging conditions encountered at sea.
We have diversified our product offering in other areas of fire safety, particularly in the production and distribution of fire door retainers. With a wide range of options available, including vandal-proof retainers, wall, and floor-mounted variants, as well as decorative door retainers, Cranford ensures comprehensive safety measures in the event of a fire emergency.
Drawing upon our extensive market experience, we identified a crucial gap in the industry and have been diligently working to address it by introducing the Addressable Door Retainer. These innovative devices represent a significant advancement in fire safety technology, offering enhanced functionality and efficiency. To ensure widespread accessibility, Cranford Controls has partnered with only two approved providers, with Apollo proudly being one of them.
Cranford Controls proudly holds membership in the Fire Industry Association (FIA), a prestigious organization dedicated to advancing the fire safety industry. Being an FIA member signifies Cranford's commitment to upholding the highest standards of professionalism and expertise. It provides access to valuable resources, industry knowledge, and networking opportunities, allowing Cranford to stay at the forefront of developments and best practices.
As we gaze into the future, our vision at Cranford Controls remains unwavering – to be the ultimate partner of choice for audio-visual alarm devices, helping everyone to safely evacuate in case of an emergency. Together, we can build a future where everyone feels secure, protected, and prepared.